Mallorca is the largest Spanish island, located to the east of the peninsula in the Mediterranean Sea. It is known internationally for its beautiful landscapes, beaches and nightlife.
When most people think about this island, they tend to think of only a beach destination, but after visiting there several times I discovered that it has so much more to offer than just beautiful beaches!
Mallorca is rich in history, with delicious cuisine and many incredible places to explore: mountains, traditional villages, beaches etc.
It is perfect for a family vacation, a couples getaway or even for those who travel alone, like myself.
It is also an ideal location for professionals or companies that are looking to organize or attend activities and events. There is always something happening on Mallorca island!
During this last year, I have had the opportunity to travel to Mallorca, combining both work and pleasure.
During my first visit, I was invited to attend the annual Travel Bloggers Meeting of the Balearic Islands. During the five days that I visited, I stayed at the beautiful Meliá Calviá Beach Hotel, which was in a beautiful area, full of attractions and night life.
For this event, they invited 17 influential travel bloggers from the United Kingdom, Italy, Germany, Poland, the United States, Puerto Rico and the Netherlands. During this trip we visited different parts of Calviá and explored different key parts of the island.
Apart from being one of the invited influencers, I was also the invited keynote speaker that was asked to share about my experience traveling alone to almost 100 countries around the world and working as a full time media influencer.
On my second trip, I was invited to speak at DESTINO MICE at the Congress Palace in Palma. This is an annual event aimed towards meeting and event organizers that seek to promote Mallorca as a specialized destination.
In the afternoon, I gave a 2 hour training on Emotional and Social Intelligence applied towards management.
The next day, I was one of the five inspirational women invited to speak in Inca for an event with MOTIVATING TALKS organized by Creativity Events.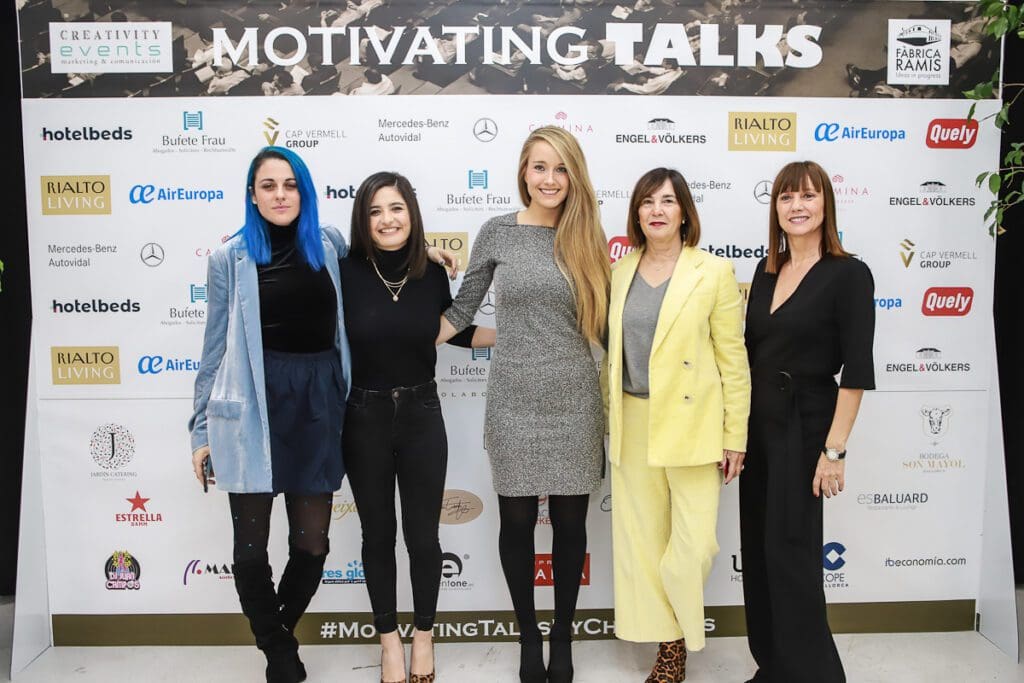 After spending some time in Mallorca, I quickly realized that it is much different than any of the other Spanish islands that I have visited so far. In my opinion, it was a huge advantage visiting in the low season, because I was able to escape the crowds and experience a whole different side of Mallorca that many people might not get to see in the high, crowded season.
Mallorca is so much bigger than I thought, so I decided that renting a car would be the best way to get around and explore.
I chose Roig Rental Car, a car rental company located less than 5 minutes from the airport. I was picked up by a shuttle at the airport and taken quickly to their main office. I was given a small, fuel efficient car during the week that I was there. It was very practical and I got my around the whole island on just one tank of gas!
This is hands down the most comfortable and affordable way to get around, especially if you are traveling with multiple people.
Recommendations:
There are many hotels and places to stay on the island, but given that Mallorca is known for its beautiful beaches, I decided to look for something as close to the beach as I could. The ocean always gives me energy and helps me to recharge my batteries, so finding a place with beach views was a must.
Hotel Nixe Palace
After a late evening flight and dinner, I arrived to Hotel Nixe Palace quite exhausted. The reception was friendly, helpful and had everything prepared for me as soon as I arrived. Upon entering the room, I was surprised to find a nice welcome note, fruit platter and a bottle of cava. The amazing detail as soon as I entered my room was priceless!
The room was very spacious and the bed was soft and comfortable.  I instantly opened the curtains and saw that there was a large balcony. I stepped outside, took a deep breath of the fresh air, with a gentle breeze coming from the ocean, and instantly felt relaxed.
I was so excited about having the large outdoor area with seaside views that I actually woke up each day way before the sun in order to have some quiet time before my events and calm my mind with the sound of the waves and deep breathing exercises and mediation.
Each day I went downstairs to the breakfast buffet in order to enjoy a delicious healthy breakfast with amazing ocean views.
Given that I travel a large part of the year, it's very important for me to have healthy options for each meal. Most people travel and skip their diets, but given that travel is my lifestyle, I make it a rule to eat healthy when on the go, just like one would do in their regular day to day lives.
In the evening, after returning to the hotel, I finished each day by a nice workout in their gym and soaking in the spa. I was so impressed with all the amenities of the hotel. I HIGHLY recommend this hotel to anyone traveling to Mallorca!
Click here to read more about Hotel Nixe Palace.
GASTRONOMY
Mallorca is an island known for its gastronomy. The food has a rich history, with African and Roman influences.
I tried many different restaurants during my stay in Mallorca, ranging from classy sit down places, to stand up tapa bars.
In my first visit to the island, I found a place called Urban Food in Calvia. It has a very modern atmosphere that attracts many international tourists and is perfect for trying different types of Mallorcan food and tapas.
I loved this area because of the different options of food available and for its young, hip environment. This area is also perfect for shopping, night life or just simply an evening stroll.
Restaurants:
Lume & Co
This was the very first place that I visited after getting my rental car and starting my adventure through Mallorca. This was recommended to me by others and they have excellent reviews on Trip Advisor.
It is located in Genoa, a neighborhood on the outskirts of Palma, about 10 minutes by car from the center.
Upon entering, I fell in love with their cozy and romantic atmosphere. It is located in a 15th century historic building, next to the castle of Son Berga, which was restored and modernized from stables to a beautiful location to dine.
Their speciality is quality meats (without hormones, antibiotics and additives). However, there are many vegetarian options, as well as wild fish.
It was a perfect place to start off my trip through Mallorca: good food, romantic atmosphere and excellent service!
Click here to read more about Lume & Co.
La Cuadra Del Maño
Strolling through the old town, near the Plaza Mayor in Palma, a strong smell came over me that reminded me of my days back in USA when I used to have barbecues.
I followed that smell down the street until I found La Cuadra Del Mano, which was absolutely FULL of people. They had long lines of people waiting outside to enter, but I decided that given the amount of people there, that it must be a place that was popular and that I should not miss.
Although the restaurant was packed, they still managed to find a small place for my guest and I. We told the owner that we wanted to try a little bit of everything in small portions so that we could try out many different things that they had on the menu.
Within 10 minutes, the waiter started bringing large plates of food out, ranging from olives, cheese, morcilla, meat and home made bread with olive oil. Once we got started, it was very hard to stop eating.  We stayed there for 2 hours and we left feeling very full and satisfied!
I am not a meat eater, but there are other options to choose instead. However, without a doubt the best part of the experience was feeling the lively environment and the staff (its a family run business) that will treat you just like one of the family.
Food&Friends
This is a perfect place to hold business activities, events, special occasions or just a good night out with a group of friends. After the MICE event, the organizers and speakers went out to have a unique gastronomic experience, where we learned how to make new delicious dishes together.
This is an excellent way to learn about the local gastronomy and have a fun interactive experience for everyone!
————————————————————————————————————————————————–
Apart from the delicious gastronomy, there is so much to enjoy in Mallorca, such as its coastal towns and cute traditional villages. I would of have liked to spend more time on the island in order to explore much more, but given that time was limited, I only had the chance to explore the following:
Porto Colom
This is an adorable fishing village where you can enjoy beautiful post card views and see small colorful houses and fishing boats. Many historians claim that this is actually where the famous explorer Christopher Columbus was born and for that reason it got its name, "Port Colom."
I enjoyed walking through the town and seeing all the gorgeous views around sunset time. For those who have lots of time, boat trips are available, something that is highly recommended by others.
The ride from Porto Colom to the hotel was absolutely breathtaking. The sky ended up turning pink and yellow and I couldn't help but stop the car and get out and take some pictures in the hay field.
Santayi
Walking through the old town you can see many cute shops and charming houses. Every Saturday there is a local market and its a great place to find traditional local products, homemade cheese, wine, fruit, jams and all kinds of different souvenirs.
If you are a wine lover, there are different places to stop along the way way to try different wines and to find a good quality bottle to take back home with you. One of the places worth mentioning is the Son Alegro Wine Cellar. They are known for making organic wine and highly respecting the environment.
I have to admit, out of all the places that I visited in Mallorca, this area was by far one of my favorites, because it is just a few kilometers away from the famous Cala del Moro. It is a small hidden beach, with beautiful blue waters and surrounded by rocks and groves.
There are many places to explore, but this is the most recognized area. There was not a single person in sight, which was the perfect opportunity to fly my drone and get some amazing video and footage.
Pollença
One of the things I quickly discovered walking the streets of Pollencça is that they actually have their own dialect. This is a great place to go and learn more about the culture of Mallorca, interact with locals and have an authentic type of experience.
This is also a nice place to relax and watch people. The environment is relaxed and good for taking a nice stroll and checking out the artsy places around. There are different areas that you can visit, but if you like to hike, I highly suggest you visit the Mountain Puig. You can walk it in about an hour and the views are lovely.
Strolling through the village was a nice way to end my time there. I found a very romantic restaurant that I fell in love with called FOGONEU
It is perfect for a chilled out evening, enjoying the good cuisine and wine with their tasting menu.
Valldemossa
This is a lovely place in the mountains of the "Serra de Tramontana", a quiet and relaxing place with incredible views. You can visit different art galleries, enjoy delicious food, visit the monastery and walk through its artsy streets.
For all nature lovers, there are many trails in the area for hiking, with neat spots that you can stop and get nice panoramic views of the sea and Mallorca.
Deià
This is a coastal town in the western part of the island, known as the village of artists. It is a great destination for art lovers and those love to walk aimlessly though art galleries. Many claim that this is a great place to live if you are looking for a calm and relaxed way of living. There are many fantastic outdoor areas, with good hiking trails and excellent opportunities for photographers.
Mallorca is truly a hidden gem that one needs to discover and explore. I really believe that this is one of those places where you can visit countless times each year and still never run out of exciting places to discover.
Don´t forget to also check out: